Last week I had the pleasure of speaking at SPTechCon in Boston. A big thank you to Stacy Burris who is an amazing organizer and dear friend, you rocked it. A big thank you as well to the panelists from our Diversity in Tech panel, many of whom jumped in to replace some folks who couldn't be there.
I had a chance to walk in the mornings in Boston, one of my favorite cities that I know so well from multiple TechEds, my first big evening event at New England Aquarium – Office System Partner Party….Gartner PCCs, E2.0s, Gilbane's, KMWorlds, SPTech Cons and countless other SharePoint events I managed over the years. (Blast from the past) 😉
Boston was lovely per usual and I got to visit and spend some time reflecting at the Boston Women's Memorial featuring Abigail Adams, Lucy Stone and Phillis Wheatley. The artist is New York-based sculptor, Meredith Bergmann, who is amazing and has been commissioned to create a sculpture for NYC Central Park for the 2020 anniversary of the 19th Amendment. The Boston Women's Memorial was unveiled in 2003. In the many times I've been to Boston I've missed it until now. It is in Commonwealth Avenue Mall, Commonwealth Ave & Fairfield St.
"The statues present the women at street level, rather than on a pedestal, although pedestals are used as part of the artwork. Stone, for example, is positioned using her pedestal as an editorial desk, working on the Woman's Journal, which she founded. Quotations from the women are inscribed on their pedestals.
Local people regularly leave items at or on the statues — scarves around the women's necks in winter, a Boston Red Sox cap on Wheatley's head when the team won the World Series in 2004. The memorial is featured on the Ladies Walk of the Boston Women's Heritage Trail."
– Wikipedia.
Was awesome to finally see it.
Thanks to our keynote speaker Karuana Gatimu for an excellent overview of Microsoft Teams and for the trip to the MIT Bookstore so fun.
Shout out to all the speakers, attendees, partners, sponsors, the production team, many of whom are dear friends and colleagues, and all the new folks I met, it was so great to see all of you.
Thank you as always for the warm welcome and for coming to my sessions.
Humans in Tech – How to Build Diversity Programs with Collaboration Tools
This session is about real-world examples of community and collaboration based solutions for building diversity in the workplace, humans in tech and tech events created to support these and other initiatives.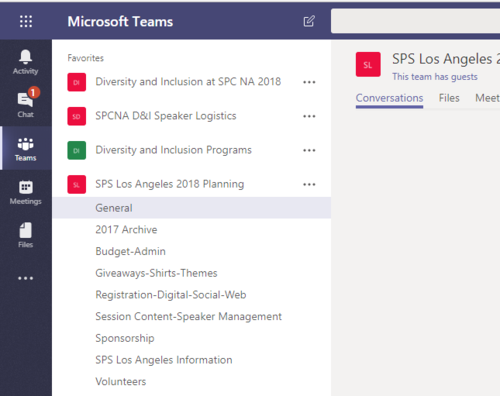 Microsoft Teams and Microsoft Planner along with Microsoft OneNote are a terrific combination for planning event logistics as well as gathering people together for campaigns and projects. In my session, I showed how I worked with committee members and speakers for both the Diversity & Inclusion Session Track at SPSNA in Las Vegas last May and also SPS Los Angeles from this past August.
In Microsoft Teams, teams are groups of people brought together for work, projects, or common interests. Teams are made up of channels. Each channel is built around a topic, like "Team Events," a department name, or just for fun. Channels are where you hold meetings, have conversations, and work on files together. For those of you who have Office 365 and that use SharePoint, the addition of Microsoft Teams and Microsoft Planner are a great way to add an additional layer of communication and organization into your business. When bringing on or adding any new app or software, its good to remember to not boil the ocean and give it a go for a smaller projects or use cases so you get to know the features and functionality.
There are some great MVP and Microsoft blogs and videos on this, which I'll list at the bottom for reference.
In adding Microsoft Teams and beginning to use it to manage a campaign or event:
Depending on the type of campaign or event that you want to manage – the channels can be slightly different.
For Events my checklist of "channels" goes like this:
General: This channel is automatically created with all Microsoft Teams, this is where for me the bulk of my "conversations" happen, it is where I like to create my all-up Microsoft Planner for the project and where many overarching files are kept. And where I add my overall event Microsoft OneNote.
Other Channels I create:
Budget-Administration
Giveaways – Fun Stuff
Marketing – Digital – Social
Registration
Session Content – Speaker Management
Sponsorship
Venue – Logistics
Vision – Goals
Volunteers
Each of these contains different information regarding the workstreams needed when producing an event.
With Microsoft Planner, as a best practice IMHO, is to create one Microsoft Planner and do that in the General Channel. I then duplicate the "Channels" as "Buckets" in Microsoft Planner. I then add tasks to the bucket accordingly.
A few features I love in Microsoft Teams:
Send Emails to a Channel
You do this by clicking the … next to the channel and you can grab the email address to the channel. For SPS Los Angeles sponsorship, we used this to essentially have all the emails back and forth with our partners show up there. My bookkeeper could see them for billing and we had a trail that was in the channel for that particular aspect of coordinating sponsorship.
Meetings in Teams
For our committee meetings we held Teams Meetings in our General Channel which meant all members could see the Meeting in the Conversation area of Microsoft Teams and we could easily add files, Notes, etc.. to it that would remain in that Channel.
For an end-user adoption campaign, I always use this checklist as the different Channels in Teams and then also as buckets in Microsoft Planner.
The slides from my presentation are available here on SlideShare.
Resources that I mentioned in my presentation and a few other folks and good articles I like:
Mastering Microsoft Teams is a new book by colleagues Melissa Hubbard and Matthew J Bailey – this is a terrific resource for getting started in Microsoft Teams especially for end-users. 
Microsoft Tech Community, if you haven't joined, its a great place for all things Microsoft – there is a Microsoft Teams Conversation Space you can "like" and ask questions there.
Microsoft Teams User Voice: This is where you can vote on features and functionality you'd like to see in just about any Microsoft product, it is managed and responded to by the Microsoft Engineering and Product Teams. Use your voice here, many times you'll find what you are wanting is already listed so give a Vote to that feature to help it level up in priority. Microsoft Planner User Voice.
The International Association of Microsoft Channel Partners (IAMCP) is a great membership organization driven by and to help connect the Microsoft Partner Community. IAMCP WIT (Women in Technology) is also a strong community if you are interested in connecting with other women and attending their local chapter events.
AIIM International (Association for Intelligent Information Management) is a membership organization dedicated to market research, expert advice, and skills development programs, tapping into the collective wisdom of a thriving community of folks who care about information-driven innovation. Great fodder for data when presenting up to management the why of moving or adding software and apps to your existing IT environments.
The Periodic Table of Office 365 by www.icansharepoint.com and @thatmattwade – this is a beautiful interactive infographic that one can use to explain technology to "the business" – I use it often with clients and reference it myself when I'm working on presentations. Give it a look.
Regarding365 is a collective of Microsoft MVPs and influencers who make it their business to share thoughts, opinions, discoveries and tips regarding Microsoft 365. The Regarding365 YouTube channel playlists that I referenced in my presentation – The 365 Message Center (a Cliff Notes version) of what was posted in the Message Center that week is terrific as well as Talking Teams. Follow them on Twitter.
Hit Refresh is the book by Microsoft CEO, Satya Nadella that I referenced. One doesn't always get a look into the life and thoughts of a CEO and this is a great book on his thinking about Microsoft culture and the business of the business.
Coffee in the Cloud is the YouTube channel that is chockfull of awesome videos from the Microsoft Product Teams, many of them feature one of our keynote speakers from SPTechCon, Karuana Gatimu who leads running the channel.
Microsoft Teams Resources Post by Matt Wade from the Periodic Table above is a great post from February with many many links to excellent resources about Microsoft Teams.
Brené Brown is an international speaker and one of the foremost researchers on Shame in the world. Her books have changed my life and I think they are an excellent add to one's reading list as you build programs, traverse the corporate world, and for just being a human.
Daring Greatly
Braving the Wilderness
Marianne Williamson is an international speaker, author, and teacher of humanity and connectedness. Her teachings and writing have also changed my life. She has many books and has a live stream on Tuesday evenings for anyone to attend.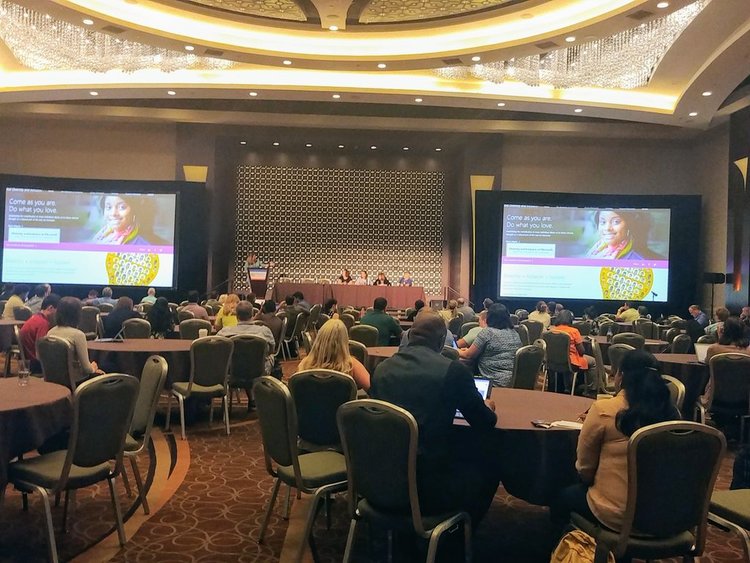 Interactive Discussion Panel: Linking our Community Together – Stories of Diversity & Inclusion in the Workplace
Featuring stories and experiences of SharePoint & Office 365 Technology Experts in how they face:
Building an inclusive workplace
Striking out fear and toxicity in the workplace
Empowering leadership
Overcoming gender imbalance in the technical field
The openness and transparency through experience and example demonstrate that cognitively diverse and inclusive teams are better for business and beyond.
I was thrilled to moderate this panel alongside dear friends and colleagues, Rob Bogue, Susan Hanley, Jennifer Mason and Julie Turner.
In putting together D&I programs and panels and such I'm working hard on intersectionality.
Intersectionality is an analytic framework which attempts to identify how interlocking systems of power impact those who are most marginalized in society. Intersectionality considers that various forms of social stratification, such as class, race, sexual orientation, age, disability and gender, do not exist separately from each other but are interwoven together. While the theory began as an exploration of the oppression of women of color within society, today the analysis is potentially applied to all social categories (including social identities usually seen as dominant when considered independently).
In working with many conference organizers opening up the conversations to be about diversity, inclusion and belonging as the overarching topics, I'm diving into this theory more broadly to ensure the "inclusion" part for example has moments for say building male allies. I've done and continue to do a lot of work for many "Women in X" groups and organizations and I do believe that those are important and needed, though I get push back on that at times and am working on how to both generate "compassionate spaces for uncomfortable conversations", borrowing the headline from a blog on Medium called Awaken that I have come to look to for excellent thinking around these subject.
How do we have safe places for women and other groups to connect and share stories while also understanding that there is a need for us all to be talking together about these subjects? Its a fine line when working in this realm. It is called work for a reason, and I believe in the importance of this work, though I don't have a concrete answer on this. However, I feel that this is the shift in our culture that is happening now. And maybe ultimately the way we want the world to be with intersectionality understanding and possibly more of a Meritocracy (a political philosophy which holds that certain things, such as economic goods or power, should be vested in individuals on the basis of talent, effort, and achievement, rather than factors such as sexuality, race, gender, or wealth). Any political philosophy comes with its own baggage and critique, however simply being human to each other trumps any other way in my humble opinion.
Some resources on Diversity, Inclusion & Belonging that we referenced in person and here in this blog:
I invite you to connect with me on social media @heddanewman @contentpanda and if you have any questions about SharePoint, diversity & inclusion programs, need a connection to someone in the community you don't know please give me a shout.
I showed a glimpse of Content Panda if you are interested in a further demo please feel free to book an appointment with us here.
And thank you again for a great event and the hospitality.
Cheers
Heather